IOS APP DEVELOPMENT
With iOS, you can launch with elegance.
Would you like your app to be discovered and downloaded by millions of people on the App Store? We can help you create a 5-star IOS App Store and distribute it to millions of Apple mobile and tablet users.
Our iOS app development experts create new and fantastic apps that consistently provide extraordinary outcomes.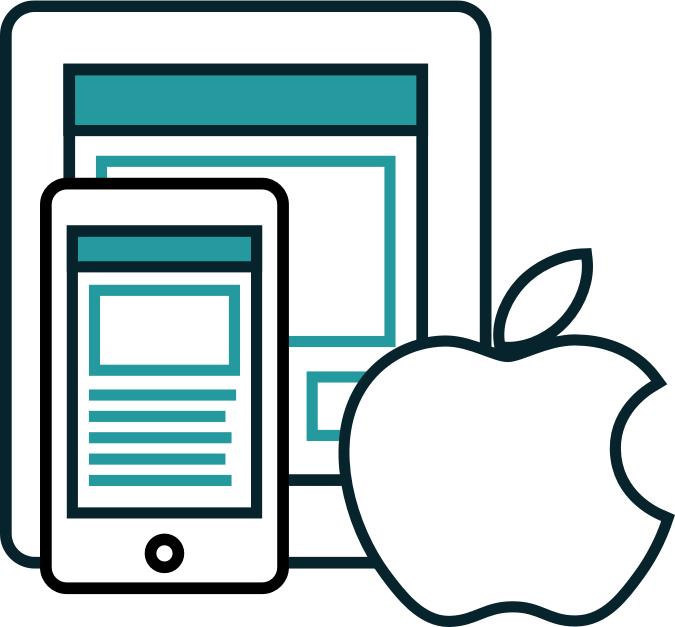 We Approach App Development in a Unique Way.
We believe in the transformative potential of great ideas and thrive on bringing them to life. We're excited to use the most cutting-edge technology to bring your idea to life and help it thrive in the app market. We get to know your project on a personal level, and we get a rush like no other from fostering the emergence of innovative technologies and assisting in the development of your concept!
Your Idea:
We put our heart and soul into validating your concept and assisting your startup's growth. We nurture and assist your innovative notion from conception to completion.
Our Experience:
Our professional team of designers and developers works with you to create the killer minimum viable product that will help your firm thrive.
Community:
We build long-term connections with all of our customers. We will assist you in placing your best foot forward and will be there for you in all of your future pursuits.
IOS Platform's Best
It's now easier than ever to create and release entertainment, marketing, and educational apps on the App Store thanks to the App Store's powerful, intuitive, and popular features.
The following are the top three reasons why you should create an iOS app:
Outperforms Revenue from Android:
Despite having half the number of downloads, the Apple App Store produces twice as much income as Google Play.
Apple consumers, according to polls, are more devoted, wealthy, and willing to pay for apps and in-app purchases.
Enhanced Security & Protection:
IOS has a high-end and comprehensive security system that is ideal for securing sensitive data held by organisations and consumers.
iOS safeguards apps from viruses, harmful code, and concerns about data or privacy being compromised unintentionally.
Advanced and Evolving Technologies: Xcode, Swift, and Apple technologies like ARKit have transformed app development.
For developers and enterprises of all sizes, new and groundbreaking technologies are released on a regular basis.
We're iOS Developers Who Know What They're Doing:
The landscape is continually developing and evolving, making iOS programming difficult. The Chaos Theory team is at the forefront of iOS and cross-platform mobile app development.
Technical Skills & Experience:
We have deep and unrivalled knowledge of Apple technologies and suites.
Our staff, which is both experienced and highly skilled, is leading the way in the fast-paced industry of app development.
Technological Tools of the Future:
Our team uses the most cutting-edge Apple tools on the market, from hardware to software, from Swift to Reality Composer to ARKit.
Our professionals are regularly upskilling on the latest industry tools and keeping up with the latest technology trends.